COMPANION ANIMAL BEREAVEMENT – A ONE HEALTH WORKBOOK FOR VETERINARY PROFESSIONALS
By Angela Garner
FOREWORD BY PETER WRIGHT, BVSc Dr (h.c.) MRCVS
Available in paperback and e-book (see To Buy page for details or click link to CABI org below)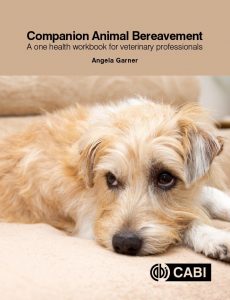 Testimonials
"It is without doubt a 'must have' for any professional or paraprofessional person dealing with this most difficult part of our work." Peter Wright, BVSc Dr (h.c.) MRCVS
"This book has three essential elements of professional texts that are not only enjoyable to read but are also highly practical. Firstly, the book is supported throughout by sensitive and informative personal stories. For what could come across as particularly morbid material, Angela instead handles the intimate stories of owners and their animals with gentle consideration so that they elucidate the theory and practice in each chapter. These stories not only talk to our own personal experiences and emotions, they also clearly bridge the gap from theory to the lives of owner and companion. Secondly, the range of topics covered in order to support the mental, physical and emotional wellbeing of both owners and their companion animals is vast. From communication techniques to compassion fatigue, loneliness to guilt, grief frameworks to self-care, this book makes all areas of bereavement accessible and understandable, without slipping into a sad narrative. The fact that different types of animal loss are discussed (euthanasia, sudden pet loss, terminal illness) and that perspectives from different owners are considered (children, the elderly, health professionals themselves) makes this a singular go-to for any veterinary professional. Thirdly, and perhaps the most refreshing and important, is the complete focus this book has on the mental landscapes and lives of our companion animals themselves. Animals are always mutual partners in this journey, never playing second-fiddle to the bereavement process of humans, but always placed firmly on the same footing when it comes to the decisions made about end-of-life planning. The breadth of animals covered, and the grief that animals feel themselves at the loss of their animal companions, gives the book an even wider scope and zoocentric approach. Finally, the considerations on in-practice training, exercises and team dynamics makes the book immediately accessible and relatable to the whole scope of professionals who influence, and are influenced by, the end-of-life journeys of animals and their owners. And yet, this book manages to be concise and comprehensive – a text that can be easily referred to and utilized by individuals and teams. Angela Garner has managed to bring together the difficult, and sometimes elusive, aspects of the bereavement process and create a resource that will benefit the well-being and welfare of owners, companion animals and professionals for many years to come." Andrew Perry (Programme Manager for Animal Assisted Therapy) Animal Behaviour and Welfare BSc, Anthrozoology MSc
Description
This concise workbook is written as a guide for veterinary professionals to support owners through the many challenges they face – before, during and after death. It aims to deepen the understanding of what it is like for the owner struggling with the destabilizing effects of grief – seeing the world through their eyes.
It covers key aspects of how to communicate with highly distressed people, recognising that it is not only what is said that is important, but how it is said.
It includes a number of exercises which can be downloaded from the publisher's website to give to owners to help them stay focused and regain their centre of gravity in the face of feeling that their world is falling apart.
The author brings her own unique understanding and analogies which she has created and successfully used when supporting individuals through the grief process, or when lecturing and coaching veterinary professionals and animal welfare organisations on this subject.
The book also addresses the importance of self-care and peer support within the vet team or animal welfare organisation staff.
Compassion and understanding underlines everything that is written because the author has worked in this area for around 20 years and, having supported many people through the twists and turns of their grief journey, she knows how important it is to communicate with sensitivity, empathy and clarity. Where appropriate she shares stories, case studies and examples to enhance and enrich the experience which this book offers.
Below is Angela's lecture at the 2015 BEVA Congress – "Supporting the Bereaved Equine Owner" (20 mins)